Ensuring Your Safety
05.12.20 | by: Tranquil Family Dentistry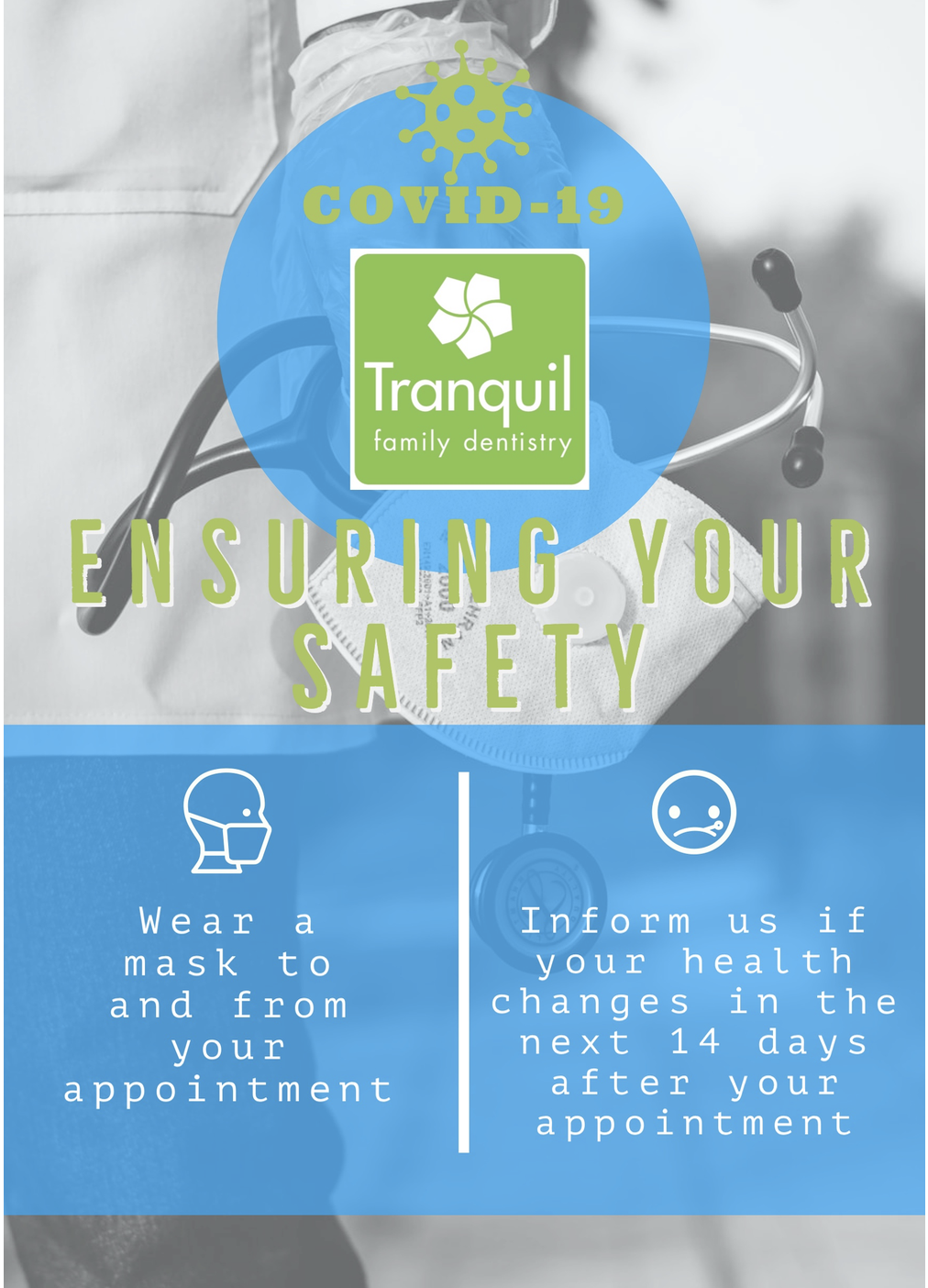 Dear Patients,
We are excited to have the opportunity to welcome you back! Our office has always utilized personal protective equipment (PPE) that has exceeded all the CDC guidelines, however, in light of the COVID-19 Pandemic we have instituted additional guidelines and protocols to ensure your safety.
Our office follows infection control recommendations made by the American Dental Association (ADA), the U.S. Centers for Disease Control and Prevention (CDC) and the Occupational Safety and Health Administration (OSHA). We follow the activities of these agencies so that we are up-to-date on any new rulings or guidance that may be issued. We do this to make sure that our infection control procedures are current and adhere to each agencies' recommendations.
Below is a list of some of the enhanced precautions we have taken to protect you in addition to extensive team training on infection control and patient management procedures.
*Our office will communicate with you beforehand to ask some screening questions. You'll be asked those same questions again when you are in the office.
*We ask that all patients arrive wearing a mask/facial covering, and unaccompanied (preferably.)
*We ask that you contact our office when you arrive at our parking lot. We have hand sanitizer that we will ask you to use when you enter the office. One of our team members will meet you at our office entrance to perform a COVID-19 screening. Note that our team members will be wearing enhanced PPE like visors, gowns, and masks to provide barriers against the smallest of germs.
*You may see that our waiting room will no longer offer magazines, water bottles, informational flyers, etc, since those items are difficult to clean and disinfect. Also our children's room will be temporarily closed. You will also notice installed sneeze guards at all reception areas.
*Appointments will be managed to allow for social distancing between patients. as well as to reduce the number of patients in the reception area at any one time. That might mean that you are offered fewer options for scheduling your appointment.
*We recommend payment arrangements in advance to avoid delay and to allow contactless exit from the appointment.
*We record the temperature and lung efficiency of every team member each day.
*Enhanced treatment room disinfection procedures of all surfaces between patients.
*Ambient air management with HEPA 13 air filtration and UV light continuously in treatment rooms and common areas to remove germs from circulating air.
*Enhanced treatment room disinfection procedures before and after all appointments with mist or fogging devices to access hard to reach places that can be easily missed.
*Enhanced disinfection procedures of bathrooms, patient waiting area, equipment and office fixtures like credit card machines, clipboards, pens, computers, keyboards, telephones, chairs, doorknobs.
We look forward to seeing you again and are happy to answer any questions you may have about the steps we take to keep you, and every patient, safe in our practice. Please feel free to contact our office at (980) 219-7078, email us at tranquilfamilydentistry@gmail.com, or visit our website at tranquilfamilydentistry.com.

Thank you for being our patient. We value your trust and loyalty and look forward to welcoming back our patients, neighbors and friends.

Sincerely,
Dr. Nancy Acampado, Dr. Grace Savage, and the entire Tranquil Family Dentistry team